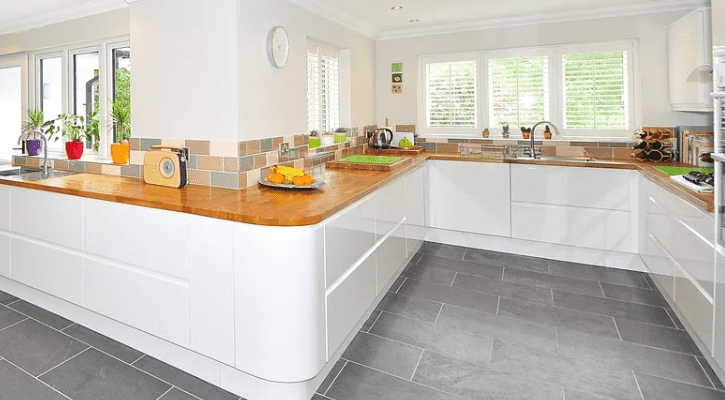 For homeowners, the decision of choosing the right kitchen tiles can be complex and confusing, with too many varieties and options to pick from. Whether it be color, material, shape, or texture. However, the kitchen can accommodate for a range of tile styles and types without compromising on the functions. There are no limits to the creativity of your tiles for your kitchen, whether that's giving your kitchen character through mix-matching tiles, or the sophisticated "one-tile" look. Your kitchen tile choices should not be as complex as you may think, and it all comes down to personal preference! The Lubbock Painting Company wants to ensure that your paint colors don't clash with your tile selection.
Where do tiles in the kitchen need to be placed?
Work out exactly what type of tiles you like, and identify the areas of the kitchen to be tiled. There are a range of tiles for you kitchen to choose from, glass, metal, wood, natural stone and ceramics – which all come in a range of colours, shapes and sizes. Your tiles need to be right for you, your kitchen, your budget and the look you want to achieve.
If you are tiling your kitchen floor, choosing slippery or easily chipped tiles can be dangerous in a household with small children or senior people; slip-resistant tiles would be the best option. Where as tiles used on counters or for backsplash slip-resistant tiles would not be necessary. Talk to your sales assistant about the requirements in your kitchen, and they will be able to advise the best materials for the purpose.
How much is tiling my kitchen going to cost?
This all depends on the area of your kitchen you are tiling, and the type of tiles you are using. Like everything, tiles range from high-end designer types, to the lower-end alternatives. The high-end designer tiles can come with a higher price tag! But these tend to be hand-painted ceramic pieces, and can often add more value to the kitchen. The lower priced tiles may often not be considered tiles, as they are usually stick-and-peel or vinyl types. Before you decide on the tiles, work out the area of your kitchen you want to tile and put together an estimate on your tile spending. Shop assistants should be able to help you with putting together an estimate, and help you with backsplash and floor measurements.
The backsplash areas of your kitchen still have to fit in with the surrounding areas. What style are you trying to achieve within your kitchen? If you're looking for a modern edge, using glass or metal will enhance your look. Traditional styles may suit natural stones or ceramic to creative a rustic, classic look.
Do plenty of research before making your tile purchase, establish exactly what you are looking for, and ask as many questions to your sales assistant as possible so the process isn't quite as overwhelming!